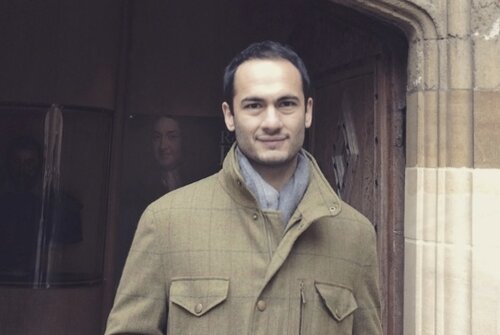 Contact Information
810 S. Wright St.
PHILOSOPHY 200 Greg Hall
810 S Wright
M/C 468
Urbana, IL 61801


Research Areas
Assistant Professor, Department of Philosophy
Assistant Professor, Department of Linguistics
Biography
I work in Philosophy of Language, Semantics, and Philosophy of Cognitive Science. My current area of focus is on the relationship between natural languages and our general reasoning capacities, including 'natural' logic. I also work on theories of concepts, the building blocks of thought, and other foundational and methodological issues in the cognitive sciences. I completed my PhD at Columbia University and my BA at the University of Chicago, both in philosophy. I also worked as a postdoctoral researcher at ZAS, Berlin, and the University of Michigan, Ann Arbor.
Research Interests
Philosophy of Language
Semantics
Foundations of Cognitive Science
Research Description
Most linguists and philosophers agree that the language system includes a syntax and a compositional semantics. Recently, several influential semanticists have argued that the language system also includes an automatic inferential system---sometimes called a `natural logic'---that can determine when expressions are informationally useless, and mark them as unacceptable. Building on this work, I have advanced three claims. First, I argue that the natural logic used by the language system is largely classical. This suggests that we need not posit a logic that is idiosyncratic and domain specific for language, as various extant accounts have done. Second, I argue that the logical forms of natural language expressions are representations which can support general reasoning. This contrasts with several recent accounts which postulate various levels of representation between linguistic logical form and the representations which support general cognition and inference. Third, I argue that this view works best when combined with the hypothesis that the lexicon encodes, and the language system has access to, rich sets of encyclopedic and other information. Taken together, these claims support a view of the language system as, ultimately, a very powerful inferential device, i.e., a system that does a lot of useful yet unconscious/automatic thinking for us. 
Additional Campus Affiliations
External Links
Highlighted Publications
Del Pinal, G. (forthcoming). The Logicality of language: Contextualism vs. Semantic Minimalism. Mind. 
Del Pinal, G. (forthcoming). Probabilistic semantics for epistemic modals. Linguistics and Philosophy. 
Del Pinal, G. 2021. Oddness, modularity, and exhaustification. Natural Language Semantics. vol. 29. Link
Del Pinal, G. 2019. The Logicality of language: A new take on triviality, `ungrammaticality', and logical form. Noûs, 53(4): 785-818. (DOI: 10.1111/nous.12235)
Del Pinal, G. and Waldon, B. 2019. Modals under epistemic tension: A defense of the restricted quantificational account of must and might. Natural Language Semantics, 27(2): 135–188. (DOI: 10.1007/s11050-019-09151-w)
Del Pinal, G. 2018. Meaning, modulation, and context: A multidimensional semantics for truth-conditional pragmatics. Linguistics and Philosophy, 41(2): 165-207. (DOI: 10.1007/s10988-017-9221-z) 
Also to appear in The Philosopher's Annual 2018 (selection of the ten best philosophy articles each year)
Del Pinal, G. and Spaulding, S. 2018. Conceptual centrality and implicit bias. Mind and Language, 33(1): 95-111. (DOI: 10.1111/mila.12166)
For a complete list of publications, please see my Personal website. 
Recent Publications
Bassi, Itai, Guillermo Del Pinal and Uli Sauerland. "Presuppositional exhaustification". Semantics and Pragmatics. 2021. 14. https://doi.org/10.3765/sp.14.11
Del Pinal, Guillermo. "Oddness, modularity, and exhaustification". Natural Language Semantics. 2021, 29(1). 115-158. https://doi.org/10.1007/s11050-020-09172-w
Pinal, Guillermo Del. "Probabilistic semantics for epistemic modals: Normality assumptions, conditional epistemic spaces and the strength of must and might". Linguistics and Philosophy. 2021. https://doi.org/10.1007/s10988-021-09339-6
Del Pinal, Guillermo and Brandon Waldon. "Modals under epistemic tension: A defense of the restricted quantificational account of must and might". Natural Language Semantics. 2019, 27(2). 135-188. https://doi.org/10.1007/s11050-019-09151-w
Del Pinal, Guillermo. "The Logicality of Language: A new take on Triviality, "Ungrammaticality", and Logical Form*". Nous. 2019, 53(4). 785-818. https://doi.org/10.1111/nous.12235