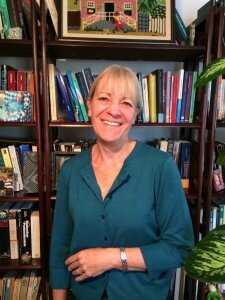 Shelley Weinberg is Associate Professor of Philosophy, who specializes in 17th and 18th century philosophy of mind, epistemology (both natural and religious), and metaphysics—with an emphasis on the philosophy of John Locke. She is a member of the Research and Project Development team in the Office of the Vice Chancellor for Research and Innovation for the Humanities, Arts, and Related Fields. She is also on the Board of the Unit for Criticism and Interpretive Theory in the College of Liberal Arts and Sciences.
Weinberg is author of the book Consciousness in Locke (Oxford University Press, 2016), which argues for a systematic reading of the role of consciousness throughout Locke's theoretical philosophy as well as in his account of moral motivation. This book was awarded the Journal of the History of Philosophy's prize for the best book in the history of philosophy published in 2016. Weinberg is also co-editor of the more recent book, The Lockean Mind (Routledge, 2021). In addition to a series of articles on Locke's views on ideas, non-ideational mental content, intellectual virtue, and moral virtue, her recent work on Locke has begun to investigate the relations between his natural and religious epistemology and interpretive hermeneutics. 
Weinberg teaches a range of courses in early modern philosophy, sometimes drawing connections to those topics and contemporary and ancient debates. For example, she regularly contrasts the political philosophy of Spinoza and Hobbes and the metaphysics of Cavendish and Shepherd. She regularly covers the debates between Locke and Leibniz; the similarities and differences between ancient, early modern, and contemporary epistemological skepticism; and modern critical theory and its history. In addition to her departmental courses, she teaches an adult education community engagement course through the Odyssey Project in the Humanities Research Institute.