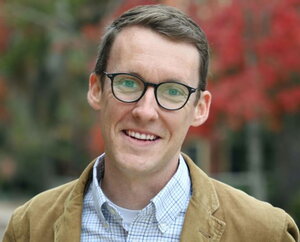 Professor John Schwenkler joins us as a Full Professor of Philosophy, with broad research interests in the philosophy of mind, philosophy of action, philosophy of language, ethics, moral psychology, experimental philosophy, and the philosophy of cognitive science. 
The focus of Professor Schwenkler's current research is the philosophy of action, including as it bears on normative ethics and moral psychology. In particular, much of his recent work has been a response to G. E. M. Anscombe's call for a sound "philosophy of psychology" to provide the needed foundation for philosophical moral theory. Schwenkler's critically acclaimed guidebook to Anscombe's Intention, published in 2019 by Oxford University Press, made a major contribution to this effort, and since then he has developed it in two directions: through a series of papers on practical reasoning, intention for the future, and the puzzle of how to account for the possibility of failing to act as one intends; and through a book project, with the title Describing Human Action, that draws on research in linguistics and experimental philosophy to address fundamental questions in the philosophy of action. Schwenkler also has active research projects in the philosophy and science of perception, self-consciousness and first-person thought, and the philosophy of ordinary language.
Professor Schwenkler received his BA in philosophy, summa cum laude, from the Catholic University of America, an MA in philosophy from the University of Notre Dame, and his PhD from the University of California, Berkeley. He began his teaching career as an Assistant Professor at Mount St. Mary's University in 2010. He then transferred to the Florida State University in 2013, where he became an Associate Professor in 2017 and a Full Professor in 2020. His research has been supported by an Academic Cross-Training Fellowship from the John F. Templeton Foundation (2018-2021), a faculty fellowship at the Notre Dame Institute for Advanced Study (2021-2022), and a Fellowship for Experienced Researchers from the Alexander von Humboldt Foundation (2022-2024, based at the University of Leipzig). One of his papers—Intending Is Believing—won the prestigious Marc Sanders Prize in the Philosophy of Mind in 2017. Another—Perception and Practical Knowledge—won the 2011 Philosophical Explorations Essay Prize.