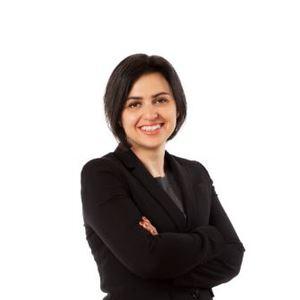 Lally A. Gartel is an associate in Benesch's Litigation Practice Group and has represented institutional and individual clients in a wide range of complex disputes. She graduated from Illinois in 2009. 
In this spotlight, Lally discusses what her favorite part about being a graduate student is, what aspects of philosophy have been most beneficial to her career, and what advice she would give to current students. 
1. What is your favorite part about being a graduate student? How did you get to where you are now? 
After graduating from Illinois, I went to Duke University to study philosophy and law and graduated from Duke with a JD and an MA in philosophy.  Though there was a time I wasn't sure I would pursue a professional (rather than an academic) path, the well-worn law-school-to-law-firm pipeline more or less defaulted me into becoming a lawyer, which I am grateful for and which saved me from the agony of uncertainty. I recently joined the litigation group at Benesch, Friedlander, Coplan & Aronoff LLP, and previously I spent a number of years as an associate in the litigation group of Kirkland & Ellis LLP. 
I'm a generalist litigator, and I've worked on a broad range of civil and some white collar matters (e.g., antitrust, product liability, tort, contract disputes, fraud, government investigations, etc). My favorite part of being a litigator is coterminous with my favorite part of college and grad school: you must force yourself to learn every day. Though it can be stressful not to ever feel as though you've finally achieved mastery over the thing you spend most of your waking life doing, there's also an excitement in the challenge of tackling something totally different every day. Were it not for my job's breadth of clients and subject matters, I would probably spend a lot more time pining for an alternate timeline in which I stayed in the academy.
2. What aspects of your education as a philosophy student have been most beneficial to your career? 
I think philosophical discipline is really good at creating people who care deeply about the validity and soundness of their theories and practices. I cannot think of a more crucial groundwork to the practice of law than the thoughtfulness cultivated in philosophy both qua formal logic and qua rhetoric. A huge part of my job consists of writing persuasively about the relationship between facts and law--I actually cannot imagine how I would have been prepared for it were it not for the exacting and amazing philosophers and mentors at Illinois and at Duke. Philosophy's attention to the accuracy and precision of written language is alone enough to set philosophy apart as among the most useful majors/disciplines for lawyers.
3. What advice would you give to current philosophy students about the professional realm? 
If you don't want to end up as a philosopher and you're sure you want to be a professional, I think that changes nothing about what you should be doing as a student. Enjoy philosophy for what it is; it can't help itself and will just gratuitously hand you the basic skills that are the necessary condition for literally any kind of professional success and advancement. You're learning to read and think critically, to recognize fallacy and bias, and to build arguments in favor of theories. The skills that result in thoughtful and critical philosophical scholarship are fungible in the so-called "real world."
This block is broken or missing. You may be missing content or you might need to enable the original module.