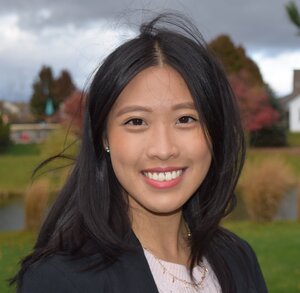 Jennifer Kuo is a Senior Consulting Analyst at Accenture and Incoming JD Candidate at the University of Chicago Law School. She graduated from Illinois in 2020 with double degrees in Philosophy and Finance.
In this spotlight, Jennifer discusses what her favorite part about being a philosophy student was, what aspects of philosophy have been most beneficial to her career, and what advice she would give to current students.
What was your favorite part about being a philosophy student? How did you get to where you are now?
I graduated from UIUC in 2020 with double degrees in Philosophy and Finance. Since 2020, I have been working as a Management Consulting Analyst at Accenture. Recently, I was accepted to the University of Chicago Law School and will be part of the JD Class of 2025 starting this fall. One of my favorite parts about being a philosophy student was the small class sizes and the ability to cultivate meaningful relationships with the professors. I was not able to do this with my other major in the Gies College of Business. Going between my finance and philosophy classes throughout the day also forced my brain to "stretch" in different ways which ultimately culminated in a stronger, more intense, and more well-rounded undergraduate academic experience. I felt truly intellectually stimulated in my philosophy classes, and they have pushed me to think and approach social issues in different ways. This is all very fun and exciting!
What aspects of your education as a philosophy student have been most beneficial to your career? 
My philosophy major definitely made me stand out during consulting interviews. A lot of my interviewers asked me to speak upon my academic interests in philosophy, which made my interviews less one-dimensional. Beyond the interview stage, my philosophy courses also have helped me in my current job at Accenture. Learning how to structure my thoughts clearly and concisely in philosophy writing (super difficult when I took my first few classes!) has helped me synthesize ideas and communicate more effectively in client and team meeting settings.

When it came to applying to law school and taking the LSAT specifically, my experience in philosophy classes was invaluable. Two thirds of the LSAT tests logical reasoning, and I directly attribute my logical reasoning skills to having been trained in philosophy. The last third is reading comprehension, and those reading passages felt manageable after having gone through the intense reading required for philosophy courses.
What advice would you give to current philosophy students about the professional realm? 
Do not be afraid to combine the study of philosophy with another "unrelated" professional/academic field. Take the time to cultivate close relationships with faculty and classmates, as you will learn a lot from them! Push yourself to think outside the box, whether in class or your career. Pursue opportunities such as submitting papers for undergraduate journals or attending philosophy conferences. Make your study of philosophy a central part of any job interview you go to. Finally, constantly ask yourself if you feel challenged and fulfilled and pivot if you do not!