Philosophy Majors Excel on the GRE and Pursue a Wide Range of Graduate Studies
Philosophy majors tend to do extremely well on the GRE, which is the entrance exam for many graduate programs of study. They go on to do graduate work in a surprisingly wide array of fields, as the information below shows.
In Philosophy Students Score High on LSAT, GMAT, Andereas Teuber has written that: "[a] recent comprehensive study of college students' scores on major tests used for admissions to graduate and professional schools shows that students majoring in Philosophy received scores substantially higher than the average on each of the tests studied. Philosophy majors' scores on the verbal portion of the GRE were higher than in any other major, even English; and although several science majors showed higher averages in the quantitative portion of the test, philosophy majors scored substantially higher than all other humanities majors and were alone among humanities majors in scoring above the overall average." 
If you're considering graduate school in philosophy, here is an overview of the timeline and resources related to the application process.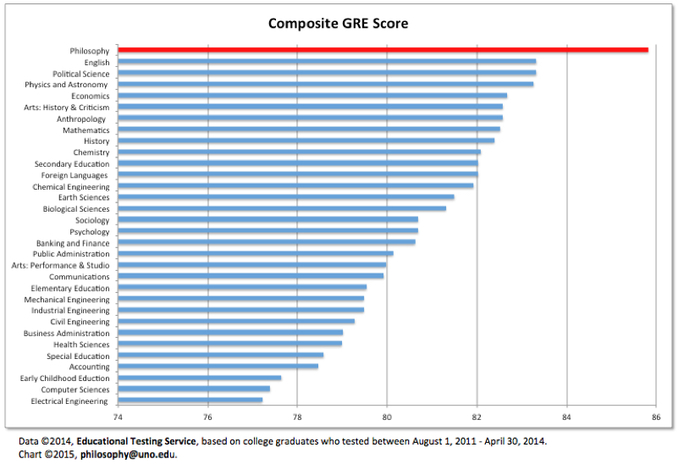 Philosophy Graduates Who Seek Further Education Pursue Many Types of Degrees
Set forth below is data on the types of graduate degrees that philosophy majors from the University of Illinois have gone on to pursue:
| | |
| --- | --- |
| DEGREE SOUGHT | % RESPONDENTS |
| Juris Doctor (JD) | 23.1% |
| Doctor of Philosophy (PhD) | 20.5% |
| Master of Arts (MA) | 17.9% |
| Professional Degree | 10.3% |
| Certificate | 7.7% |
| Master of Science (MS) | 5.1% |
| Doctoral Degree | 2.6% |
| Graduate Degree | 2.6% |
| Master Degree | 2.6% |
| Master of Business Administration (MBA) | 2.6% |
| Master of Philosophy (MPhil) | 2.6% |
| Other | 2.6% |
What Graduate Fields do Philosophy Majors Pursue?
Here is some information about the fields of study that recent philosophy majors have gone into:
| | |
| --- | --- |
| PROGRAM / MAJOR | # RESPONDENTS |
| Law | 10+ |
| Philosophy | 5+ |
| Accounting | 1+ |
| Business Administration and Management | 1+ |
| Chemistry | 1+ |
| Civil Engineering | 1+ |
| Clinical Psychology | 1+ |
| Computer Science | 1+ |
| Developmental Psychology | 1+ |
| Elementary Education Teacher Licensure Program | 1+ |
| Finance | 1+ |
| Human Resources and Industrial Relations | 1+ |
| Interdisciplinary Studies | 1+ |
| Mathematics | 1+ |
| Music Theory and Composition | 1+ |
| Philosophy/Political Theory | 1+ |
| Physics | 1+ |
| Public Administration | 1+ |
| Religious Studies | 1+ |
| Sports Management | 1+ |
| Statistics | 1+ |
| Sustainable Design | 1+ |
| Total respondents for this question | 38 |