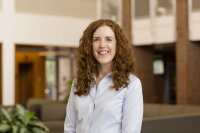 Contact Information
College of Law
504 East Pennsylvania Avenue
M/C 594
Champaign, IL 61820


Research Areas
Biography
Colleen Murphy is the Roger and Stephany Joslin Professor of Law and Professor of Philosophy & Political Science at the University of Illinois at Urbana-Champaign, where she also serves as Director of the Women and Gender in Global Perspectives Program in the Illinois Global Institute. Prior to joining the Illinois faculty, she was an Associate Professor of Philosophy at Texas A&M University. Dr. Murphy has been a Laurence S. Rockefeller Visiting Faculty Fellow at the Princeton University Center for Human Values and a Visiting Professor at the 4.TU Centre for Ethics in the Netherlands. She is the author of The Conceptual Foundations of Transitional Justice (Cambridge University Press, 2017), which received the North American Society for Social Philosophy Book Award; A Moral Theory of Political Reconciliation (Cambridge University Press, 2010); as well as more than 50 articles and book chapters. She has also co-edited three volumes. Dr. Murphy is an Associate Editor of the Journal of Ethics and Social Philosophy, Journal of Human Development and Capabilities, Journal of Moral Philosophy, and Science and Engineering Ethics.  She is member of the Editorial Board of Law and Philosophy and Sustainable and Resilient Infrastructure.  Professor Murphy is a past member of the American Philosophical Association's (APA) Committee on the Status of Women and APA Committee on Philosophy and Law. Professor Murphy holds a M.A. and Ph.D. in philosophy from the University of North Carolina at Chapel Hill and a B.A. from the University of Notre Dame. 
Research Interests
Jurisprudence, Transitional Justice, Political Philosophy, Risk ethics, Engineering Ethics
Additional Campus Affiliations
Roger & Stephany Joslin Professor, College of Law
Professor, College of Law
Professor, Political Science
Director, Women & Gender in Global Perspectives, College of Liberal Arts and Sciences
Professor, Beckman Institute for Advanced Science and Technology

External Links
Recent Publications
Murphy, Colleen. "III—ON PRINCIPLED COMPROMISE: WHEN DOES A PROCESS of TRANSITIONAL JUSTICE QUALIFY AS JUST?". Proceedings of the Aristotelean Society. 2021, 120(1). 47-70. https://doi.org/10.1093/ARISOC/AOAA003
Murphy, Colleen and Arden Rowell. "John Oberdiek, Imposing Risk: A Normative Framework". Journal of Moral Philosophy. 2021, 18(1). 103-107.
Wang, Yi et al. "Empirical Predictive Modeling Approach to Quantifying Social Vulnerability to Natural Hazards". Annals of the American Association of Geographers. 2021, 111(5). 1559-1583. https://doi.org/10.1080/24694452.2020.1823807
Doorn, Neelke and Colleen Murphy. "Introduction to the Symposium on Sabine Roeser's Risk, Technology, and Moral Emotions". Science and Engineering Ethics. 2020, 26(4). 1887-1890. https://doi.org/10.1007/s11948-020-00184-7
Gardoni, Paolo and Colleen Murphy. "Society-based design: promoting societal well-being by designing sustainable and resilient infrastructure". Sustainable and Resilient Infrastructure. 2020, 5(1-2). 4-19. https://doi.org/10.1080/23789689.2018.1448667